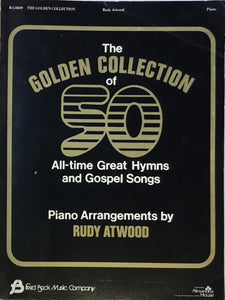 Permanently Out of Print, impossible to find, The Golden Collection of 50 All-Time Great Hymns and Gospel Songs arranged by none other than "The Dean of Gospel Music", Rudy Atwood.
I learned a great deal from playing these arrangements and analyzing what Rudy Atwood did with the four notes in the hymnal. Highly recommended for anyone wishing to accompany their congregation effectively. Definitely late intermediate to early advanced level arrangements. 
Since these books are no longer in print, they will be in used condition. This particular copy is in excellent condition, having rarely, if ever been used, however, some of the binding is beginning to separate.